Immigration and innovation in European regions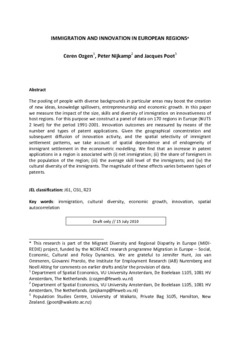 Poot, J., Ozgen, C. & Nijkamp, P. (2010). Immigration and innovation in European regions. University of Otago, Department of Economics Seminar Series 2010.
Abstract
The pooling of people with diverse backgrounds in particular areas may boost the creation of new ideas, knowledge spillovers, entrepreneurship and economic growth. In this paper we measure the impact of the size, skills and diversity of immigration on innovativeness of host regions. For this purpose we construct a panel of data on 170 regions in Europe (NUTS 2 level) for the period 1991-2001. Innovation outcomes are measured by means of the number and types of patent applications. Given the geographical concentration and subsequent diffusion of innovation activity, and the spatial selectivity of immigrant settlement patterns, we take account of spatial dependence and of endogeneity of immigrant settlement in the econometric modelling. We find that an increase in patent applications in a region is associated with (i) net immigration; (ii) the share of foreigners in the population of the region; (iii) the average skill level of the immigrants; and (iv) the cultural diversity of the immigrants. The magnitude of these effects varies between types of patents.
Date
2010
Collections