Making manifest: Viewing Wittgenstein's philosophy through Derek Jarman's lens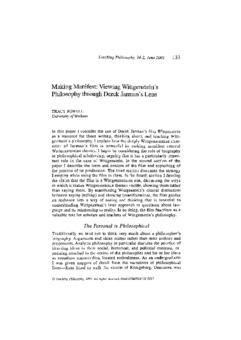 Bowell, T. (2001). Making manifest: Viewing Wittgensteins philosophy through Derek Jarman's lens. Teaching Philosophy, 24(2), 133-142.
Abstract
In this paper I consider the use of Derek Jarman's film, Wittgenstein as a resource for those writing, thinking about and teaching Wittgenstein's philosophy. I explain how the deeply Wittgensteinian character of Jarman's film is powerful in making manifest central Wittgensteinian themes. I begin by considering the role of biography in philosophical scholarship, arguing that it has a particularly important role in the case of Wittgenstein. In the second section of the paper I describe the form and content of the film and something of the process of its production. The third section of the paper discusses the strategy I employ when using the film in class. In the fourth section I develop the claim that the film is a Wittgensteinian one, discussing the ways in which it makes Wittgensteinian themes visible, showing them rather than saying them. By manifesting Wittgenstein's crucial distinction between saying (telling) and showing (manifestation), the film guides its audience into a way of seeing and thinking that is essential to understanding Wittgenstein's later approach to questions about language and its relationship to reality. In so doing, the film functions as a valuable text for scholars and teachers of Wittgenstein's philosophy.
Date
2001-06-01
Type
Rights
This article has been published in the journal Teaching Philosophy, 24(2). (c) Teaching Philosophy 2001
Collections