Teaching history is talking history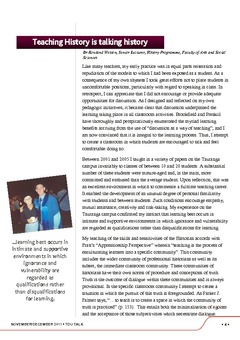 Weston, R. (2011). Teaching history is talking history. TDU talk, 5, 4-5.
Abstract
Like many teachers, my early practice was in equal parts reiteration and repudiation of the models to which I had been exposed as a student. As a consequence of my own shyness I took great efforts not to place students in uncomfortable positions, particularly with regard to speaking in class. In retrospect, I can appreciate that I did not encourage or provide adequate opportunities for discussion. As I designed and reflected on my own pedagogic initiatives, it became clear that discussion underpinned the learning taking place in all classroom activities. Brookfield and Preskill have thoroughly and perspicaciously enumerated the myriad learning benefits accruing from the use of ―discussion as a way of teaching‖; and I am now convinced that it is integral to the learning process. Thus, I attempt to create a classroom in which students are encouraged to talk and feel comfortable doing so.
Date
2011
Type
Publisher
University of Waikato
Rights
© 2011 University of Waikato. Used with permission
Collections