Case commentary: Bethell v Bethell [2014] NZSC177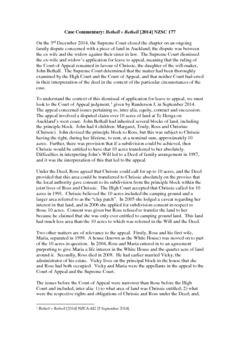 Chevalier-Watts, J. (2015). Case commentary: Bethell v Bethell [2014] NZSC177. The New Zealand Law Journal, Febuary, 31–32.
Abstract
On the 3rd December 2014, the Supreme Court closed the chapter on an ongoing family dispute concerned with a piece of land in Auckland; the dispute was between the ex wife and the widow against their sister in law. The Supreme Court dismissed the ex-wife and widow's application for leave to appeal, meaning that the ruling of the Court of Appeal remained in favour of Chrissie, the daughter of the will-maker, John Bethall. The Supreme Court determined that the matter had been thoroughly examined by the High Court and the Court of Appeal, and that neither Court had erred in their interpretation of the deed in the context of the particular circumstances of the case.
Date
2015
Type
Publisher
LexisNexis NZ Limited
Rights
This is the submitted version of an article published in the journal: New Zealand Law Journal. ©2014 LexisNexis NZ Ltd. Used with permission.